Renovation in social housing pilots will be demonstrated in the SUPERSHINE lighthouse districts by following a smart neighborhood approach using methods and technologies based on resource efficiency, circularity, renewable energies, modular building, smart living and eco-design.
The needs of residents will be the guiding principle in the process, driving social innovation and human centered approaches fostering co-design, co-development and co-implementation.
Lighthouse districts are in three cities: Trieste (Italy), Herning (Denmark) and Riga (Latvia).
The lighthouse district are within the NEB principles:
Beautiful, Sustainable, Together.
The New European Bauhaus initiative calls on all of us to imagine and build together a sustainable and inclusive future that is beautiful for our eyes, minds, and souls.
Beautiful are the places, practices, and experiences that are:
•Enriching, inspired by art and culture, responding to needs beyond functionality.
•Sustainable, in harmony with nature, the environment, and our planet. 
•Inclusive, encouraging a dialogue across cultures, disciplines, genders and ages. 
Additionally, SUPERSHINE One Stop Shop will interact with local businesses, innovative SMEs and services to harmonise the EE refurbishment at district level and in order to provide tailored information to all the relevant stakeholders.
The planned intervention includes: higher energy efficiency of the building fabric, onsite generation and storage of renewable energy, and microgrids.
The creation of new communities resulting from the rebuild of the district will lead to the definition of new social housing services designed according to the inhabitants' needs.
The tenants have carried out a democratic planning process to decide which building renovation measures are to be carried out.
The Āgenskalns neighbourhood is known for its active, self-established local community, motivated to take part in development of their neighborhood and willing to contribute to green and smart transformation of their urban and living space.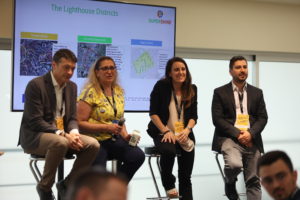 Articles
The ISHF provides a platform for international collaboration, knowledge sharing, and the exchange of best practices in the social housing sector. By examining the lessons learned from various housing systems,
Articles
Social housing associations and EU projects are countering energy poverty with innovative financial schemes and "solidarity mechanisms": "Buildings refurbishment benefits both the people and the Planet. Social and environmental fights
Articles
Launch of the online survey on Energy Efficient (EE) refurbishment of the social housing stock across Europe!