Following the lighthouse demonstration along the smart neighbourhood approach, SUPERSHINE will develop corresponding models in the Fellow cities by providing them with tailored tools to put them firmly on the transition pathway.
SUPERSHINE aims to extend its impact to other cities by creating customized models and equipping them with specialized tools to facilitate their smooth transition towards sustainable practices.
This fellow district is located in Setúbal. The municipality has already promoted the energy certification of 293 dwellings in social housing, with the intention of soon certifying more than 1800 dwellings, with the aim of rehabilitating the buildings.
It is a tower block in the centre of Belgrade, comprising 13 floors with 72 apartment units, each ~20 m2. The "social infrastructure" in the neighbourhood is also typical socialist era with health, educational and recreational facilities present.
It is situated in Zaragoza with two sub-districts; Pedro Saputo-Margarita Xirgú and Emmeline Pankhurst. Built 1992, the buildings have not been refurbished to date. The ACTUR district was built in the 1970s in response to homelessness issues faced by the city. A district heating system has been installed and the local government earmarked huge public investments for the construction of emblematic buildings and infrastructure
The SUPERSHINE Turkish fellow district is in Kadikoy, one of the central districts of the metropolitan city of Istanbul. The demo buildings composed of one block, 72 units, 13 floors are are now an adapted reuse project and repurposed as a cultural / social / recreational centre in 2021. There is access to several private and public services including a cultural / social /recreational centre, a treatment centre and public administration offices.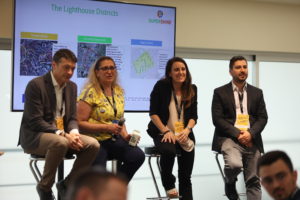 Articles
The ISHF provides a platform for international collaboration, knowledge sharing, and the exchange of best practices in the social housing sector. By examining the lessons learned from various housing systems,
Articles
Social housing associations and EU projects are countering energy poverty with innovative financial schemes and "solidarity mechanisms": "Buildings refurbishment benefits both the people and the Planet. Social and environmental fights
Articles
Launch of the online survey on Energy Efficient (EE) refurbishment of the social housing stock across Europe!