The buildings are located on the outskirts, in densely populated areas and where there are numerous other social housing buildings.
Both at the pilot-site in Herning and Aalborgthe buildings are mixed building types, from cluster houses to multi-storey buildings.
The proposed building is located in the suburbs of a small town called Trbovlje.
Trbovlje is the 9th largest city in Slovenia in terms of population.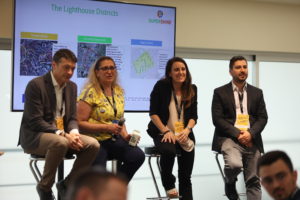 Articles
The ISHF provides a platform for international collaboration, knowledge sharing, and the exchange of best practices in the social housing sector. By examining the lessons learned from various housing systems,
Articles
Social housing associations and EU projects are countering energy poverty with innovative financial schemes and "solidarity mechanisms": "Buildings refurbishment benefits both the people and the Planet. Social and environmental fights
Articles
Launch of the online survey on Energy Efficient (EE) refurbishment of the social housing stock across Europe!
In this empirical analysis, we provide a comprehensive study to investigate the economic and financial feasibility of the energy efficiency interventions in Italy, Slovenia and Denmark. More specifically, we derive the adjusted risk extra returns (RP) for each Public Private Partnership(PPP) contract and we then determine the most appropriate contract for each building. 
Detailed cost-benefit analysis of the various PPPs is provided within each specific pilot.
Comparison Public Private Partnerships (PPP) across pilots
The table below summarises the ranking of the financial performance of each Public Private Partnership  for each building across the SUPER-i pilots in Denmark, Italy and Slovenia.
Ranking for risk adjusted extra return
The risk adjusted extra return is a financial investment measure that determines the expected investment return that exceeds the risk free rate of return. That is, RP represents the level of compensation that the investor receives for taking the extra risk associated with a given investment
The table below provides a ranking system for risk-adjusted extra returns (RP) and their corresponding assessments, offering a valuable framework for evaluating the performance of each PPP contract based on different RP ranges, from 'reasonable' to 'excellent'.
Ranking for risk adjusted Extra return
Replication in partner countries
The most successful applications of innovative financial schemes for social housing refurbishment will (Belgi
constitute a best practice that will be replicated in the other partner countries
Belgium, Spain and UK)
focusing on the
Housing Europe network.